Amerigel
AMERIGEL Hydrogel Wound Dressing's advanced formula provides moist wound healing through its unique ability to address multiple wound concerns simultaneously. The hydrating base in the wound dressing provides necessary moisture to assist the body in creating an optimum wound healing environment. Zinc works together with the hydrating base to prevent scabs from forming, which can delay the healing process and lead to scarring.
AMERIGEL Hydrogel Wound Dressing is indicated for cuts, scrapes, abrasions, pressure ulcers, diabetic skin ulcers, stasis ulcers and post-surgical incisions. The Wound Dressing is approved by the American Podiatric Medical Association and has been rated the #1 topical wound/ulcer treatment by podiatric physicians since 2006.
Benefits:
#1 Rated Topical Wound/Ulcer Treatment by Physicians
Provides a moist wound environment
Antibiotic-Free
Easy to apply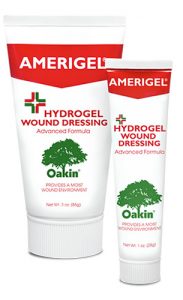 Wound Care Kits
Family Footcare has partnered with CPN BioSciences to supply a wound care kit that is prescribed by your doctor to help in the management of some common wounds like:
Partial thickness wounds
Dehisced surgical wounds
Diabetic ulcers
Venous ulcers
Pressure ulcers
Ulcers caused by mixed vascular etiologies
Full-thickness and partial thickness wounds
These kits can be helpful in a home environment where individuals may have wounds that need to be managed daily but not need an office visit to attend to. It can give peace of mind to know you have all the necessary tools and supplies available to continue on the healing path.
Wound care kits include different types of gauze, adhesive dressing, non- adherent dressing, tape and the collagen therapy. The CPN wound kit is shipped directly to the patient's home.
Collagen therapy dressings creates a wound environment highly conducive for healing. Collagen is easily applied to the wound bed, attracting the cellular components necessary to stimulate the healing process.
Collagen is the protein that gives the skin its tensile strength, plays a key role in each phase of wound healing. Collagen dressings stimulate new tissue growth and encourage the deposition and organization of newly formed collagen fibers and granulation tissue in the wound bed.
If you feel you have a wound or ulcer that could benefit from collagen therapy and would like to see if you qualify for this type of treatment ask you doctor.